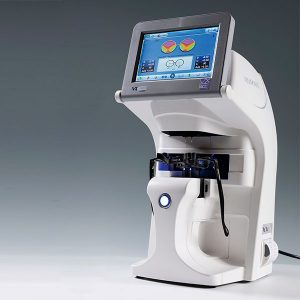 Automatic Lensmeter VX40
Wavefront technology inside.
This new generation of completely automatic lensmeter is based on Visionix Wavefront
technology. Pressing one button, you have an analysis of the entire frame.
Automatism and precision
With its innovative system of ≪frame≫ support, the VX40 is the only lensmeter in the market which combines automatism with a high precision in measurement.
Easy to use
The unique lensholder system allows a fast insertion of the frame with only one hand! After pushing the measurement button the whole process works on it's own. The VX40 allows you to spend more time with your patients and less time with analysis.
Automatic lens type detection
VX40 detects all types of lenses: progressives, office and single vision lenses as well as bifocals. It is compatible with all lens technologies and brands.
Complete analysis
With this instrument, each point of a lens can be studied. Progressive and freeform lenses will no longer be a mystery.
Comparison between progressives
The lens is studied over the whole area. So even freeform progressive lenses will be able to be compared and analyzed.