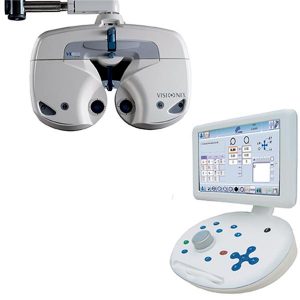 Automatic Phoropter VX60
For a faster and more reliable refraction process, choose the VX60. Benefiting from Visionix
know-how, the VX60 lets you control refraction from start to finish.
Features and Benefits
Simplified refraction thanks to a unique console design
An ergonomic keyboard with a set of essential buttons that can be accessed with just one hand (right or left)
A large touch screen
A central selector wheel using the "Light Sphere Color" technology, direct, calculation-free view of the spherical equivalent tendency thanks to colored diodes.
Simplified refraction thanks to complete software
"Easy Custom" system for easier programming of exam protocols.
The software adapts to needs throughout the different steps of the eye exam.
Simplified refraction thanks to the latest technologies
Bluetooth wireless technology for ease of installation (no communication cable) and use (freedom of movement).
Switch to near vision: Respect for convergence and ntegrated lighting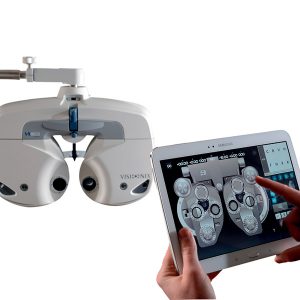 Digital Phoropter VX55
A new type of digital phoropter: Featuring the simplicity and comfort of a manual refractor.
Digitalize your standard refractor, control the entire refraction process from a tablet making refraction quicker and easier than ever before, providing unparalleled performance and exceptional versatility. Keep your refraction habits. The VX55 from Visionix offers effortless efficiency without changing the way you work.
Features and Benefits
Advantages of a digitalized manual phoropter:
A virtual manual phoropter on the tactile tablet to keep the habit of uses
Features the ability to memorize two refractions and gather feedback on preference from your patient
Control of the chart display from the tactile tablet with feed back of the displayed optotypes
One click to reset the phoropter head at the end of the exam
A sound ergnomic design
Bluetooth wireless communication between the head and the tablet: freedom of movement
Provides technology that will offer your patients the ≪wow≫ factor
Unique Add "assist" function offering easier operation whentesting the add value in near vision
Built-in white LED lighting offers clear and safe illumination switching to near vision
High quality product
Smooth, quiet lens selection for faster examinations
Compact and ergonomic Design
Multi-coated lenses for better Performance
Manual Phoropter VX50
Enjoy fantastic quality and value with the Visionix VX50 phoropter. This phoropter features easy, quick, and accurate refractions. Synchronized cross cylinders, an extended measurement range, and precision engineering guarantee long lasting performance.
Features and Benefits
Easy to operate
Automated rotation of cross cylinder with the cylinder axis
Natural postion for near vision with convergence mouvement
High range device
Multicoated lenses
High quality components